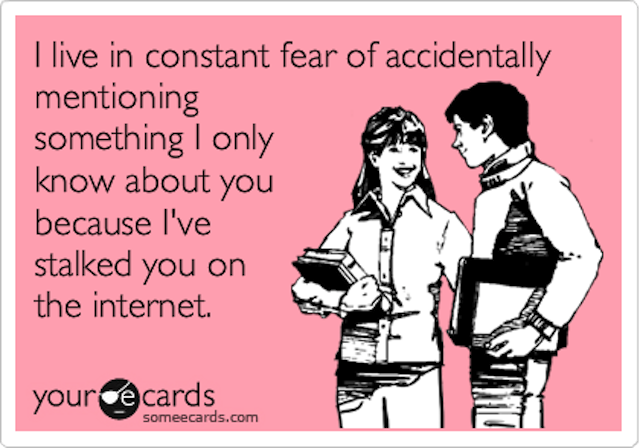 I've been absent from my blog for 16 days because, in my professional life, I have been spending loads of time explaining the 'value' of social media to my agency clients in terms of dollars and cents. In 'big advertising,' $1 in means you have to get at least $1 out in terms of sales. If not, it failed.
Well, social media doesn't quite work the same way. We have to find a way to explain the value of a 'like' or a 'comment,' and educate our clients on the value of peer influence in social media and how it affects purchase behavior. Frankly, it's a tough nut to crack – how do you tell a car dealer that reaching a specific engagement benchmark is going to help him sell cars?
At the same time, I've been trying to answer that same question for myself. Like, how do I know if a girl liking five of my Instagram pictures indicates an intent to buy – err – show interest in me? Or makes a cryptic, one-word comment on a picture of mine that says 'cute.' Does that mean I've got a green light to make a real world play for her affection, or does it just mean 'you're cute like a doll I'd put on my shelf but never play with' kind of way?
My theory is this: what you do on social media absolutely is an indicator of your intentions in real life. For example:
Liking 3 or More Consecutive Instagram Pictures: Speaking strictly for myself, if I see that a girl likes 3 or more of my Instagram pics, in a row, I feel confident that it means something. Why? Because I know she's not that interested in boxing and pictures of my new apartment. Determining opportunities in social media is about identifying trends and acting accordingly. So, if you start entering the 'liking 4 or 5 of my pictures in a row' territory, please know that you're sending a message. And yes, I'd be thrilled to take you out to dinner.
The 'Hey, How've You Been?' Facebook Message: Let the record show – if you receive one of these messages on Facebook, and the person asks you what you've been up to, you know they have an ulterior motive. Why? Because we overshare so much on Facebook that it would be impossible for someone to ask what you've been up to and not already know the answer. You know exactly what I've been up to, stalker. I know what you've been up to, too. Just tell me what you mean to say, which is 'hey, I've been Facebook stalking you and I want to make out with you at the movies' or something.
The Comment Streak: Tell yourself this – when it comes to social media actions by the opposite sex, there is  no such thing as a 'coincidence.' If there is a sudden change in his social behavior, even if it's in the form of inconsistent, ambiguously-intentioned comments, it's totally on purpose. He didn't just develop an interest in European travels and your nephew, simultaneously, while also scrolling across your page. He did that crap on purpose because he wants you.
Duh.
Oh, and dating the hot chick? I went through a few different titles for this blog before settling on that one. I thought it would grab your attention, and I hope it did. Or hopefully it'll send a subliminal message to a hot chick to amp up her social stalking activities so I can provide some ROI for her efforts. What an awful, honest thing to admit. I'm sure you're hoping the exact same thing happens to you.